"Save the Ottobar" On-Site Raffle and Online Auction!
"Save the Ottobar" On-Site Raffle and Online Auction
Binko presents "Save the Ottobar Online Auction and in-house Raffle featuring one of a kind, Ottobar inspired artwork from local artists, and gift packages generously donated by some of Baltimore hottest shops and creators!
ART will be on display 10/17 and online for bidding on eBay (link coming soon!)
RAFFLE packages will be on display 10/17 with winners chosen night of (must be present with valid ID to claim prizes.)
ARTISTS: Alex Fine, Beth-Ann Wilson, Brittany Herbinko, Brookelle Bombshelle, Chris Keaton, Darl Gnau, David Dotson, Genevieve Kara-Tefft, Jackie Sabur, Linas Garsys, Matt Muirhead, Monica Amneus, Nicki Lenderking, Tj Stambaugh, Shane K Gardner
RAFFLES: Vu, CAnE Collective, The Remington Bottle, Mondo Baltimore, Oliver Brewing Co, Black Collar Screen Printing, Baltimore Spirits Company, Charm City Tattoo Museum, Charm City Cakes, Magfest, Baltimore Rock Opera Society, Fringe Baltimore, Celebrated Summer Records, Rock n Roll Socialite, Nolen Strals, Risa Reyes, Mike Davis, Debbie Samek, Zehra Eifert, Victor Acord, V Lee.
Patio Hangs, Tunes, Ottobar themed cocktails and more!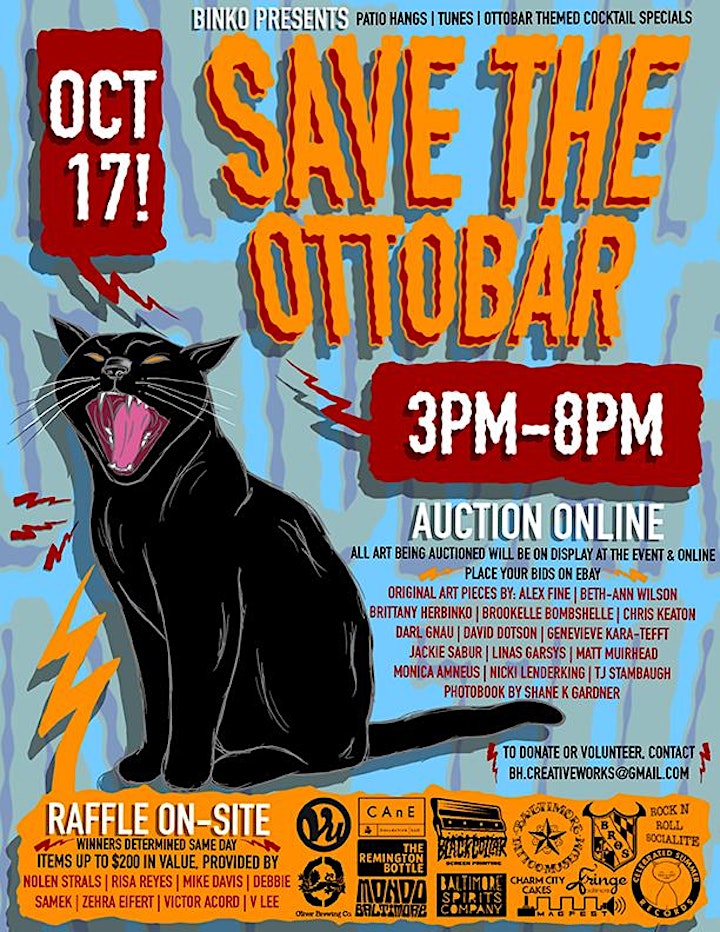 Venue Information:
Ottobar
2549 North Howard Street
Baltimore, MD, 21218