Ottobar & MEC MGMT Presents
Most Dope Listening Party - A night celebrating the life of Mac Miller
Most Dope Listening Party - A night celebrating the birth & life of Mac Miller Upstairs at Ottobar
The (this celebration) most up listening party is an idea that came to me not long after Mac Miller's passing. I thought about having it on the day that he died but it didn't feel right. Instead I preferred to have it on his birthday a day where we usually celebrate being born, we celebrate life & that's what we're gonna do.
In his passing you can see how much he really brought to a community and to people's lives.
You see how he affected generation after generation and you wonder what he'd be doing and where he be right now.
So join us on Mac's Bday Jan. 19th, Sunday at 9 PM to celebrate the life of Mac Miller. We'll be blasting all kinds of Mac Miller music videos and music all night long.
At 10pm we'll stream the new Mac Miller, Circles, album from front to back with an assortment of videos.
Proceeds made by MEC Mgmt will be donated to The Mac Miller Fund a fund that was put in motion by his family and his team to support the youth across the nation in developing their skills and talents to further their careers.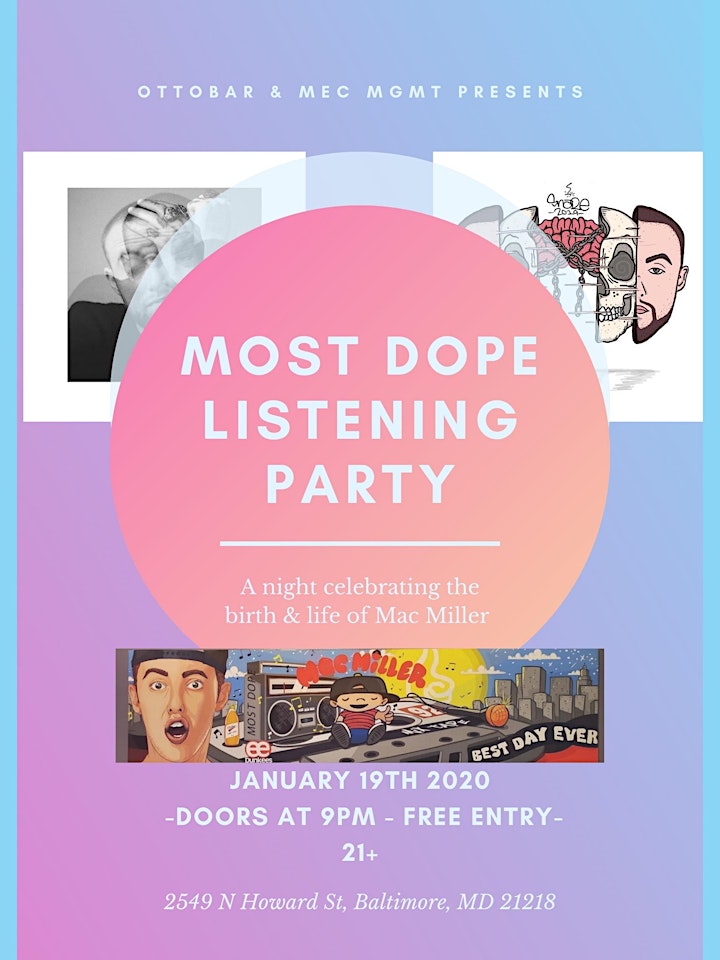 Venue Information:
Ottobar - Upstairs
2549 North Howard Street
Baltimore, MD, 21218